Lottery Winnings For Schools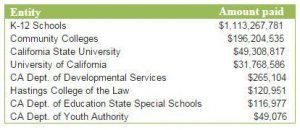 Breakdown of lottery funds to educational entities

View Photos
Sacramento, CA — State lottery officials report billions have gone to schools in the 2014-15 fiscal year, with a chunk coming to the Mother Lode.
A total of $1.39 billion in payments from the Lottery Education Fund went to school districts, higher educational institutions, and state agencies, according to State Controller Betty Yee. She made the announcement today, which includes a county-by-county amount breakdown.
Tuolumne County schools received $1,019,300 in funds while Calaveras was given $991,029. A listing of fund amounts doled out to Community Colleges, Universities and K-12 can be viewed in the chart in the upper left-hand image box.
The distribution of the funds is divided up by the Controller and sent each quarter to county treasurers, who in turn portion it out to school districts. The payments are based on lottery income and unclaimed online prizes. The Controller's office reports that this year's total is up from the 2013-14 fiscal year in which $1.35 billion was paid to schools in the state.