Butte Fire Recovery News Includes Nov. 6 Deadline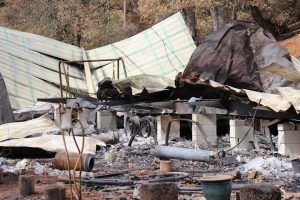 Butte Fire Recovery Debris Removal

View Photos
San Andreas, CA — As over a dozen burn debris removal crews continue to clear Butte Fire-impacted properties this week, Friday looms as the last day to sign up for free removal assistance.
County officials describe the program, run by CalRecycle, as a comprehensive set of protocols that are safely removing ash and debris from destroyed buildings as well as toxic contaminants from impacted soils. The process includes subsequent tests on cleared areas to ensure that they are safe and ready for rebuilding. A county-provided infographic that visually explains the process can be viewed here.
For those who have chosen not to participate and/or signed a denial of right of entry form, the county's Environmental Management Agency is alerting homeowners that they may still have household hazardous wastes (HHW) removed by signing a property access agreement. The form and the necessary self-certification forms for residents to conduct their own debris removal operations are available by clicking here.
So far, 27 properties have been cleared of burn debris, according to county officials. Currently, 14 crews are focusing in western and central Jesus Maria, Old Gulch, Wendell and Mokelumne Hill areas. Due to rain, site work was temporarily suspended on Monday. State and Federal Environmental Protection Agency (FEMA) representatives have reported the removal of household hazardous waste materials from 683 properties throughout the damaged areas and air monitoring continues.
For those not participating in the State/County debris removal program, detailed information is now available for self-certification of debris removal from their property. You can download the documents by clicking here.
Additionally, residents of Butte Fire-destroyed or damaged properties may qualify for property tax relief if damage is in excess of $10,000, as long as applications are filed within a year. For details, call the county assessor's office at 209 754-6356. To initiate the process online, click here.