Olsen Requesting High Speed Rail Subpoena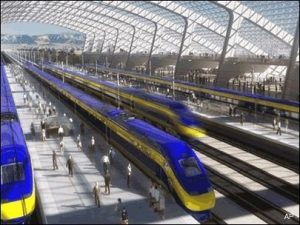 HSR

View Photos
Sacramento, CA — Assembly Republican leader Kristin Olsen is urging the Assembly Speaker to issue a subpoena to the California High Speed Rail Authority.
Olsen, and three other Republicans in the Assembly, have sent a letter critical of the information that has been forthcoming about the bullet train. The request to Speaker Toni Atkins is for the High Speed Rail Authority to produce all accounting documents regarding cost estimates for the first phase of the project. The lawmakers are also requesting the creation of a special committee to receive sworn testimony, under penalty of perjury, from High Speed Rail officials.
It comes after the Los Angeles Times reported that there is a confidential internal document that estimates the cost of completing the first phase of the project to be $9-billion more than what was disclosed to the legislature.
Olsen says, "If a company in the private sector keeps two sets of books, one for themselves and one for the regulators, they would go to prison. The state agency that oversees this project is guilty of exactly that and instead of filing charges, they were given more money."
The first phase of the project will run from Burbank to Merced. The business plan submitted to the legislature for the first phase puts the price tag at around $31-billion, but internal documents uncovered in the report put the price closer to $40-billion.
Other Assembly members that signed the letter, requesting a subpoena, include Tom Lackey of Palmdale, Jim Patterson of Fresno and Scott Wilk of Santa Clarita.