Another Butte Fire Lawsuit Filed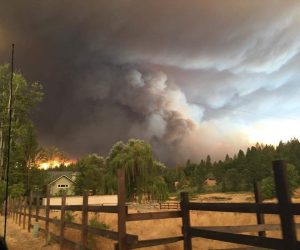 2015 Butte Fire Visible From Glencoe

View Photos
San Andreas, CA – More than 70 Butte Fire victims have joined in the filing of a second lawsuit accusing PG&E and others of negligence.
The Sacramento-based Airola Butte Fire Attorneys filed the complaint in Calaveras County Superior Court. It names PG&E Corporation, Pacific Gas & Electric Company, ACRT, Inc., and Trees, Inc. for wrongful conduct and "conscious disregard for the safety of the public."
As previously reported, the Singleton law firm of Solana Beach in Orange County filed a similar complaint in September.  During the height of the blaze, PG&E officials acknowledged that the company was working with Cal Fire in the ongoing investigation of whether a live tree may have contacted one of its powerlines near the ignition point. An exact cause has yet to be determined.
Both lawsuits point to PG&E's negligence in maintaining vegetation near their powerlines, especially during the states lingering drought. The latest complaint states, "PG&E has been subject to numerous fines and penalties over the past 10 years as a result of their ongoing failure to abide by safety rules and regulations.  The most recent penalty imposed on PG&E for a safety violation occurred on April 9, 2015, when the CPUC imposed a record $1.6 billion for safety violations that resulted in deaths, injuries and the destruction of homes related to the San Bruno fire."
Attorneys from both law firms are seeking similar damages for individual plaintiffs that range from personal injury; physical and/or personal property damage; pain and suffering; injury to livestock and pets; loss of income; consequential and incidental damages; and for emotional suffering, fear and anxiety, inconvenience and other harms.
The Butte Fire, which broke out Sept. 9, claimed the lives of two people, while destroying 475 homes, more than 343 outbuildings and damaging 45 other structures.