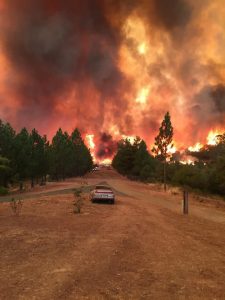 Butte Fire, from a firefighter's perspective, according to wife Michelle Gonzalez

View Photos
Calaveras County, CA, — Although no official cause has yet been determined for the Butte Fire, a lawsuit has been filed blaming PG&E and its vegetation maintenance contractor, Trees Inc., for sparking the  flames that ripped through the county, leaving a path of destruction in its wake.
The lawsuit, filed by the Singleton Law Firm of Solana Beach, California, on behalf of Calaveras County residents Brain Moeller and Jolene Stewart, argues that those companies are responsible due to negligent maintenance of the electrical equipment and/or vegetation. The claim states, "The individuals have suffered varying types of injuries, damages, losses, and/or harm as a result of the Butte Fire."
As previously reported, PG&E officials acknowledged that the company continues to work with Cal Fire in the ongoing investigation of whether a live tree may have contacted a PG&E line in the vicinity of the ignition point.
Of note, after a Butte Fire community meeting last week at Bret Harte High School in Angels Camp, attendees came out to find flyers on their windshields soliciting legal inquiries about a possible lawsuit against PG&E.