Removing Debris From Butte Fire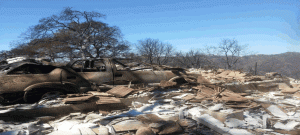 Butte Fire Debris

View Photos
San Andreas, CA — Assistance is available in Calaveras County for homeowners wishing to remove debris resulting from the Butte Fire.
To receive help, homeowners must sign and submit documents to the county's Environmental Health Department by November 6th. For more information, click here. You can also call 209-754-6399, extension 1.
Hazardous debris removal vehicles, provided by the Department of Toxic Substances Control, have already begun to remove some of the more dangerous debris from the fire area, notably along the western portion of Jesus Maria Road and the southern portion of Mountain Ranch Road. The initial team is looking for items like asbestos, paints, batteries, electronic waste and propane tanks.
Additional teams will later be dispatched to remove things like debris and ash.