Chief Stinson Comments On Sonora High Death Threat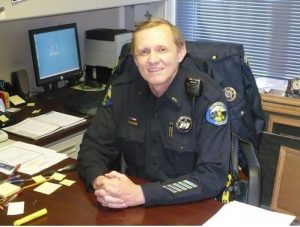 Sonora Police Chief Mark Stinson

View Photos
Sonora, CA — Sonora Police Chief Mark Stinson provides this following update to the Sonora High death threat case reported here Wednesday.
The incident involves the same female Sonora High School student who received escalating handwritten and electronic threats and suffered a physical battery in an on-campus locker room towards the end of the latest school year.
Tuesday, after finding stuffed in her locker what law and school officials are calling another serious death threat note, the girl did not attend school Wednesday while her parents reportedly met with school administrators to discuss safety plans. Clarke Broadcasting caught up with the chief late Thursday afternoon for his perspective.
Stinson confirms, "It's an open and active and ongoing investigation…assigned to an investigator in our investigator unit, who is working with the school very closely on the case." For now, he says, "I can't tell you exactly on what we've been working with them about…can't comment on helping with security measures…we have some things going on I can't talk about." While police do not currently have any valid leads at this point in time, the chief requests anybody who may have information regarding the incidents to call the department or contact the school.
Regarding the latest death threat letter, Stinson shares, "We continuously have them sent to the Department of Justice to…have them forensically analyzed."
When asked about the school's lack of updated security cameras, which administrators promised to attend at the end of the last school year, Stinson replies, "Unfortunately, the school is like any government agency, where there are protocols that we have to go through…I feel sorry for [Patrick Chabot, the school district superintendent], because we kind of went through the same thing for our own personal security cameras at the police department. We had to write a request for proposal, send that out for 60 days, wait for vendors' response in 60 days, and then we had to vette the vendor respondents, so I'm guessing that they are going through the same thing, unfortunately."
Sharing his personal comments on the case, Stinson states, "It's sad it came to this…it's becoming more prevalent, unfortunately as kids are maturing at a lot younger age…some are becoming more vindictive, unfortunately. Sometime it is bullying and sometimes it is just a hate streak and it's really sad to see students going this way and venting their anger and frustration by doing these things instead of finding some other kind of resource to handle this." (Ironically, it was just last week, ahead of this latest incident, that Clarke Broadcasting published a three-part series on safety and bullying, available by clicking here.)
When caught, the perpetrator or perpetrators behind these incidents, Stinson says, will likely face a litany of felony charges that include making terrorist or criminal threats.
On The Thwarted Summerville Shooting Incident
Queried about plans recently revealed to the public for an on-campus shooting that four Summerville High students were plotting (previously reported here), Stinson replies, "That was very sad to hear about, but it's not the first time this [kind of plot] has been uncovered in Tuolumne County. We had one in Sonora High School, I think it was back in about 2005, and I know the sheriff's department had another one several years ago at Summerville, so it's not the first time that we've had these types of investigations…it's just how many students that were actually involved in this one that was kind of shocking."
He adds, "I am very glad that those individuals stepped forward with that information [about the shooting plot they overheard] because…without that information, we, as law enforcement, often don't find out until after the fact…in this particular case, those individuals need to be definitely need to be noted."
Asked if violent virtual games play a big role in these kinds of incidents, Stinson confides, "I have attended some training on school shootings and that seems to be the theme…the violent games that these kids are playing…they are becoming detached to actual death…kind of removing themselves…shooting people on video screens. So, they go out and act on these types of things…they've removed themselves [from reality] and are…actually playing the game in real life."