Frogtown Still Housing Livestock, Transitioning Butte Fire Evacuees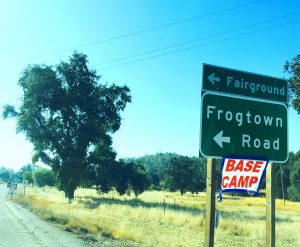 Butte Fire: Frogtown Base Camp Sign, off Hwy 4, Angels Camp

View Photos
Angels Camp, CA — Beware of inaccurate rumors and social media abuzz about Butte Fire evacuation resources available at the Calaveras County fairgrounds.
According to Frogtown Operations Manager Laurie Giannini, street word spread over the past couple of days about the fairgrounds no longer accepting large animal evacuations is "completely incorrect."
Giannini has been helming a multi-faceted Butte Fire mecca for human and animal evacuees since the blaze broke out Sept. 9; soon after which, Cal Fire's base camp relocated from Amador County in the wake of the fire movement deep into Calaveras territory. Far from transitioning livestock out of the fairgrounds, Giannini says she and her workers, both paid and volunteer, continue working closely with County Animal Services, including to bring animals being housed in Amador County to Frogtown. She adds, "We are expecting and open to receive more animals because, as homeowners return to their places, there might be more animals that need to come down. We have 24-hour vet care here and we are in constant contact with UC Davis [veterinary center]."
The bottom line, for Butte Fire survivors who need a place to house their livestock, Giannini says stoically, "We are still set up…ready and more than willing to receive them." Along with a full staff, the livestock area offers 24-hour security as well as a small onsite vet hospital. While there are currently more than sufficient volunteer resources, the fairgrounds is gladly accepting donations of animal feed to use there as well as deliver to outlying areas. "We're working really closely with Patty Spence at Spence Ranch Feed and Supply in Angels Camp, and with Allen Sender in Mountain Ranch…trying to meet folks' needs, one need at a time, and that seems to be the best thing to do at this time," she explains. Besides hay, any of the bagged feeds for lambs, goats and horses are welcome.
Human Evacuees Now 'Displaced Residents'
Giannini shares that the fairgrounds has transitioned from an evacuation enter, per se, to a temporary home for the evacuees still remaining. "We've been able to find some solutions for the people who were in tents, so we're really excited about that," she says enthusiastically. "Our RV park is transitioning to folks who now know that they do not have a home, who have purchased…or have been loaned an RV, and so the RVs are starting to come back in, as people figure out what their new normal is," she explains. Describing the onsite situation as one that continues to be "pretty self-sufficient," she calls those now staying at Frogtown part of "a new, big extended family." Overall, including the Cal Fire presence, she states, "Everybody's working really well together and it's been an awesome partnership…the community outpouring and volunteers that have just come in to 'love' on people — has really been amazing."
As the fairgrounds has ample volunteers now working on a regular schedule, Giannini advises those who want to help out to find someone you can help directly. "Just reach out to your neighbor and love on them," she suggests. Other options to consider might be to volunteer at local senior centers, the Resource Connection or other food pantries. These latter opportunities help feed displaced residents, such as RVers and other campers at the fairgrounds and other places, who are now working to find their "new normal" and once again be self-sufficient in preparing their own meals.
Asked about clothing donations, which seem to be on hold for many organizations that were taking them earlier — both due to limited space and the need to disperse what has already been collected — Giannini shares that, in own firsthand experience, gift cards present a strong solution to address current needs. "We were evacuated ourselves, and I was in borrowed clothes for about seven or eight days before we could get back in," Gianinni recalls with a grimace. "So I get it — totally — to want to have something that fits correctly…and everybody likes to have something new."
By Giannini's own personal count, besides herself and family, three members of the fair's board of directors, her administrative assistant and the facility's maintenance technician number among the area's evacuees. Although Giannini confides that, when she returned to her home and found that pasture and fences were lost, neighbors' residences further up Mountain Ranch Road were devastated. "So we feel very blessed and thankful," she says humbly.
With deep understatement she summarizes the experience of enabling shelter for evacuees of many species, shapes and sizes as very personal, emotional labor. Asked if there is anything else that people should know about the current status at Frogtown, without skipping at beat, Gianinni simply states, "That [we] live in an amazing community."