T.U.D. Rate Plan Being Sent To Customers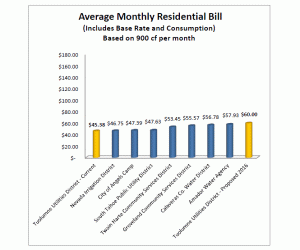 T.U.D.'s rates compared to other agencies

View Photos
Sonora, CA — Within the next couple of weeks T.U.D. customers will receive notification about a proposal to gradually increase rates over the coming five years.
As first reported earlier this week, average water and sewer rates would gradually go up over the coming years. (See image box for more details) If the rate increases are not implemented, T.U.D. anticipates that it will face an annual shortfall of around $6-million over the next five years.
Interim General Manager Dave Andres spoke about the benefits of the increase. He stated, "The first item is to eliminate any structural deficits in the water and wastewater funds. The water fund in particular has a structural deficit, and the wastewater fund has a structural deficit to the extent that we don't have sufficient revenues for operations and maintenance."
Click here to read the entire 23-page rate study completed by T.U.D.