Body Found In Sonora Fire Near Hwy 108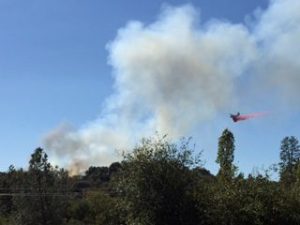 Longeway Vegitation Fire

View Photos
Sonora, CA — The Tuolumne County Sheriff's Office has reported a fatality related to the vegetation fire in the Crystal Falls area, as crews discovered a body next to a burned out vehicle.
As reported earlier, the flames broke out at Spanish Grant Drive around 3:37 p.m., threatening one structure and forcing the evacuation of residents on Red Heather and Spanish Grant drives. Firefighters were able to mitigate the threat to the homes in about 20 minutes. It was during the firefighting that crews discovered the body.
Tuolumne County Sheriff's officials released this statement regarding the fatality, "During the firefighting efforts, a burned vehicle was located down an embankment with a deceased subject found next to the vehicle.  Identity of the subject is pending further investigation at this time.  A multi-jurisdictional investigation is currently ongoing with Cal Fire, CHP and the Tuolumne County Sheriff's Office."
The fire was contained at three acres in about an hour. The cause of the fire is also currently under investigation.
Further details are in the follow-up story "CHP Investigating Fatal Incident That Ignited Fire" read more here.