Mother Lode Skies Filled With Drift Smoke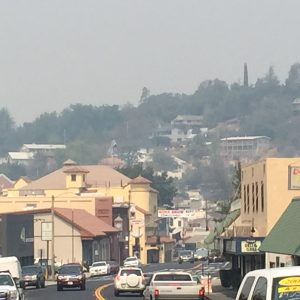 Butte Fire smoke blanketing Sonora

View Photos
Calaveras and Tuolumne counties, CA — The skies over the Mother Lode are filled with heavy drift smoke from the Butte Fire burning in neighboring Calaveras and Amador counties.
As crews continue to battle the flames that have already destroyed at least six structures, a thick blanket of smoke has covered the region. Cal Fire spokesperson Nancy Longmore says, "There is heavy smoke pretty much over the whole [Tuolumne] County from the Butte Fire. It has really smoked up the whole county – Shades of the Rim Fire two years ago."
Motorists should take precautions, as there is limited visibility along roadways. Longmore advises, "Make sure you have your headlights on so you can be seen. Stay out of fire areas if you don't absolutely have to be there."  Additionally, the smoke brings health concerns.
Tuolumne County's Health Chief Chimes In
Tuolumne County Health Officer Liza Ortiz chimes in, "So, just here in Sonora, I haven't left Sonora in the past couple of hours, we've been noticing an increase in smoke and a very significant decrease in visibility."
Right now, in Sonora, Ortiz states, "We're not looking at a great air quality and it's not good for sensitive groups, meaning people who have lung and heart conditions, for the most part." She cautions, "If you have asthma or COPD, definitely limit your time outside as much as possible…if you're running the A/C inside, which you probably are because it's pretty hor outside, make sure you have it recirculating so you're not pulling in smoke from the outside."
Ortiz points out, "One of the best measures of air quality that we have is visibility, because it is so different from Point A to Point B, to wherever in Tuolumne County — given our mountains. So, people should look outside and try to find whatever mountain in the horizon — whatever landmark they have and [using a map] figure out how far away that is — then that would tell them what their visibility is."
To determine the air quality at your location, consider the chart below:
Air Quality Categories                               Visibility in Miles
Good                                                           10 miles and up
Moderate                                                    6-9 miles
Unhealthy for Sensitive Groups                 3-5 miles
Unhealthy                                                    1 ½ – 2 ½ miles
Very Unhealthy                                           1 – 1 ¼ miles
Hazardous                                                    ¾ mile or less
Ortiz also shares the following guidelines:
The following guidelines can help to prevent breathing problems during times when air quality is poor due to wildfires:
1) Individuals with long term health conditions like asthma, lung or heart disease should make sure that they have a supply of medications on hand and are following their caregivers instructions.
2) Elderly and very young children should limit their outdoor activities when local air quality is "unhealthy for sensitive groups" (visibility less than 5 miles).
3) Signs that the smoke may be bothering you include coughing, scratchy throat, irritated sinuses, shortness of breath, stinging eyes or runny nose. Sometimes symptoms may even include chest pain or headaches. Consult your caregiver for worsening symptoms.
4) If you are advised to stay indoors, keep indoor air as clean as possible. Keep windows and doors closed unless it is extremely hot outside. Run an air conditioner if you have one, but keep the fresh-air intake closed and the filter clean to prevent outdoor smoke from getting inside. If you do not have an air conditioner and it is too warm to stay inside with the windows closed, seek shelter elsewhere.
5) Consider a high-efficiency particulate air (HEPA) filter to reduce breathing problems. Room air cleaners, which utilize a HEPA filter, may reduce the number of irritating fine particles in indoor air.
6) Do not add to indoor pollution. Do not smoke because smoking puts even more pollution into the air.
The Tuolumne County Air Pollution Control District will continue to monitor air quality and will provide updates as the information becomes available. Its current air quality information is available here.