Mining Correlation To Failing Fractured Rock Wells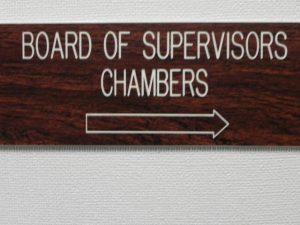 Tuolumne County Board of Supervisors Sign

View Photos
Sonora, CA — Before voting to continue the county's state of drought emergency, the Tuolumne supervisors were also apprised at their Tuesday meeting of an emerging pattern in failing wells.
In making his report on current state of the drought impacts to Tuolumne County, Environmental Health Director Rob Kostlivy pointed to a new map visual, provided on-screen in the board of supervisors' chambers, to help depict that the concentrations of failing fractured rock well connections, particularly in Jamestown, Tuttletown, and Columbia, are following the high density of mining claims.
"People who have always had water in their mines are reporting that they are dry," Kostlivy remarked. Many of these residents, he pointed out, come from families with generations worth of history living and working on the properties. Concurring with his findings, Kostlivy referenced a similar trend noted by the U.S. Geological Survey (USGS) in Nevada County, also a high mining area, where the mines, acting as cisterns, were contributing to false higher volume gallons-per-minute readings in well test measurements.
Emergency Response Coordinator Tracie Riggs indicated that, to date, there are 215 wells and 11 springs that have gone dry in Tuolumne County, and tank and water deliveries are subsequently on the rise, expecting to continue. "This is not slowing down at all," Kostlivy noted. "We're still seeing at least one well failure per day now and two tanks installed per day, Monday through Friday." With over a hundred tanks now in place he conservatively estimated over 170 would be in use by December.
During a series of dry well outreach workshops held last month, Riggs reported ten intakes with subsequent calls continuing to come into her office. She added that inquiries, requesting livestock water assistance are increasing and that emergency resources are available for that through the Farm Service Agency through its Stanislaus County office, at 209 491-9320.