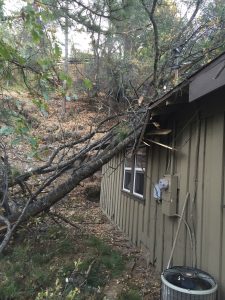 Tree down at house on Gerrymander

View Photos
Sonora, CA — Law enforcement was notified last night about "possible gunfire" in a residential Sonora neighborhood, and officials discovered it was actually the fall of a 100 ft. dead oak tree.
The tree fell in a neighborhood behind the Mother Lode Fairgrounds near Gerrymander Drive and Hill Street. The tree snapped on a property on Gerrymander Drive, and caused damage to a neighboring home of Sabrina Biehl and her husband Matt. She says, "The kids thought it was an earthquake, I thought maybe my husband was cleaning off the roof. As soon as the noise stopped my 13 year old son let out a scared yell and then all the kids started crying. We got out of the house as fast as we could."
Thankfully no one was injured when the tree hit the home. Biehl says she didn't realize until early this morning how fortunate they were that no one was injured, as the tree damaged the roof directly above the children's bedroom. She calls the damage "minor." Biehl offered praise to the quick response of the Sonora PD, Sonora Fire Department and PG&E. PG&E was able to clear debris from the power line above the home and the incident did not result in any outages.