Motorist Alert: Watch Out For Students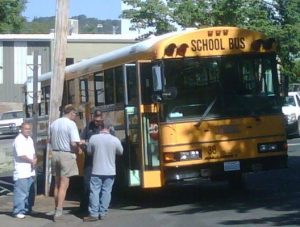 Sonora School Bus

View Photos
Sonora, CA – As Wednesday is the first day of school for Tuolumne County, the CHP offers tips for both students and travelers.
There will be plenty of the kids walking, bicycling and school buses out on the roadways. Officer Nick Norton wants to remind those with students and especially those without, saying, "Hey, be careful, we have children that are going to be out and about. There will also be buses with their red lights on and motorists must stop and observe those."
Here are the CHP's friendly reminders:
Pedestrians:
Cross at the corner or crosswalk or in a highly visible location.
Stop and look both ways before you cross.
Never cross or enter the street from in between parked cars.
Pay attention and do not walk while talking on a cell phone or listening to music.
Bicyclists, skateboarders and scooters:
All bicyclists should wear properly fitted bicycle helmets every time they ride.
Anyone under 18 who uses a skateboard, non-motorized scooter, rollerblades, roller skates and bicycle must use a helmet.
Ride your bicycle in the same direction as other vehicles, not on sidewalks.
Be visible. Wear bright clothing and reflective materials during the day.
Always pay attention and obey all signs and signals.
Motorists:
Expect children walking, biking, skateboarding or riding scooters.
Always pay attention. Do not use your cell phone while you drive.
Slowdown in all school zones.
Obey School Bus signals – i.e., red lights flashing means stop for all vehicles in both directions.