Big Creek Fire Remains 150 Acres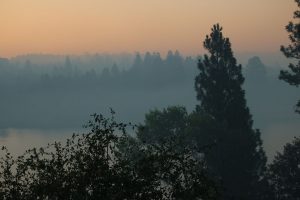 Big Creek Fire Morning Smoke Visible From PML

View Photos
Groveland, CA — CAL Fire reports that the Big Creek Fire held at 150 acres overnight and it is 5% contained this morning.
The fire is burning outside of Groveland near Sprague Road. The CHP reports that Highway 120 is back open this morning, however some side roads are closed, including Hell's Hollow Drive, Bucktail Drive, Elmore Drive and Sprague Drive East. Homes on those streets are still under a voluntary evacuation notice. An evacuation center remains open at the Groveland Community Hall.
The fire ignited during the four o'clock hour yesterday afternoon. Click here to view a detailed story from yesterday.
A special thanks to our community news partners Josh Ruhl, Connie Cassinetto, Willow Polson, Craig Polson, Caroline Nelson, Hannah Deden, Michael Bartlett, Doug Fleming, Ian Morcott, Bruce Lodge, David Hartwig, Judy Krause-Hankinson, Shari Pingree, William Cook, Nathan Grinsell, Dick Davis, Sally Van Bolt and Tamara Hansen for sending in the photos. Pictures can be e-mailed to news@clarkebroadcasting.com. The video was shot by Shari Barnett Fleming.