The Mother Lode's Oldest Elephant Passes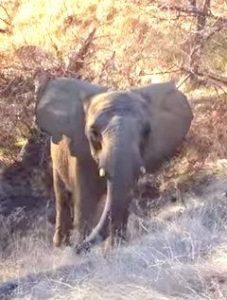 PAWS Resident African Elephant Iringa
San Andreas, CA — One of the oldest African elephants in North America was quietly euthanized this past Wednesday at a local wildlife sanctuary.
According to the Performing Animal Welfare Society (PAWS), which today announced the death of 46-year-old Iringa at its ARK 2000 captive wildlife sanctuary in San Andreas, the decision was made to end the elephant's suffering from what had been a long history of degenerative joint and foot disease. Refuge officials list the maladies as among the leading reasons for euthanizing elephants in captivity.
Born in Mozambique, Iringa was captured before age two and shipped in 1974 from Africa along with six other pachyderms to the Toronto Zoo. The longest lived of that original group, Iringa and two other elephants were relocated to the Mother Lode sanctuary in October 2013, following the zoo's decision to end its elephant program and a subsequent vote by the Toronto City Council. She is survived at the PAWS refuge by Toka, now 45, and Thika, who was born at the zoo.
Iringa reportedly enjoyed the peaceful life she found at the sanctuary, especially bathing in the facility's pool, which helped relieve the aches from her degenerative ailments. PAWS President Ed Stewart additionally shares, "Iringa was special to us. She enjoyed roaming the hills of the habitat and eating natural vegetation year-round."
Following Iringa's passing, Stewart says that PAWS personally notified the Toronto Zoo today to send condolences to its staff, the city of Toronto and others who loved her. As part of the protocol for elephants who pass away at PAWS, he adds that pathologists will perform a necropsy on her remains at U.C. Davis Veterinary Medical Teaching Hospital.