Possible TUD Customer Rate Hikes On Hold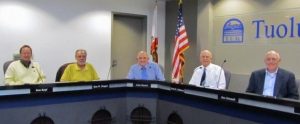 T.U.D. Board (Ron Kopf, Ron Ringen, John Maciel, Kent Johnson and Jim Grinnell)

View Photos
Sonora, CA — TUD's Interim General Manager Dave Andres is advising the board to look forward, not back, to shore up the district's water woes.
Tuesday at its meeting the board voted 4 to 0, with member Jim Grinnell absent, to implement a five-year Capital Improvement Plan (CIP) along with a Water and Wastewater Rate Study. Together, both will address projected revenues and expenses associated with operations and maintenance, capital outlay and equipment, capital improvements, contingencies and reserve requirements over the next five years.
Andres acknowledged to the board that this would require a strong commitment from staff not only to develop the information in an understandable way to the board, but also to educate ratepayers on the need for the projects. He added that ultimately the board must decide what projects are critical and what customers can bear in terms of a rate increase. Andres says this plan gives the board a clear picture of where it needs to go in the next five years and the costs. "You have a lot of cost involved in doing a proposition 218 rate study…so we may as well get the best bang for the buck. So, let's not look at a short term one or two year rate increase that will just get you to the point where you're still trying to figure out what you want to do long term and you won't have any rates to assist you. Also, the five-year rate study will allow the board to schedule any increases to least impact the customers," explained Andres.  The study is targeted to take no longer than a year to complete.
Additionally, the TUD board agreed 4 to 0 to sell water to the Del Oro Water Company, which operates in the Strawberry area. The company had requested an emergency supply of water for the next six months at a maximum of 30-acre feet. The agreement ends in December of this year. The water company will pay for all of TUD's costs related to supplying the water.
Finally, staff reported the district is on track to meet the 24% state appointed standard reduction for the year.  Estimated figures indicate a 41% reduction for June, 39% for July 35% for August.
Click here to view Andres' proposed timetable for the roll out of the CIP and study.