Tuolumne County Wins Gold At California State Fair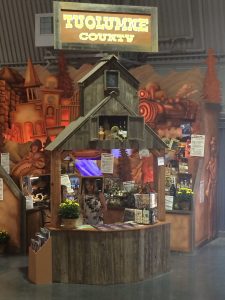 Tuolumne State Fair Exhibit 2015

View Photos
The Tuolumne Visitor's Bureau exhibit display at the California State Fair, once again, received the Gold Ribbon.
Anna Davies, Tuolumne Bureau Special Projects Coordinator, was Wednesday's KVML "Newsmaker of the Day".
"We took home the Gold once again, which feels wonderful," said Davies. "A lot of hours and work went into this display, which we couldn't be more proud of."
Calaveras County won a Silver Ribbon for their display at the Fair.
This was the seventh consecutive year for a Gold Ribbon for the Tuolumne County display.
Every year, a new display must be built in order to meet the annual theme. Davies describes this years display as a gigantic, beautiful exhibit and booth.
"With our local volunteers working in three to four hour shifts at the State Fair, we see each year that the time and effort of our displays pays off," said Davies. "We think this is a great reminder to most of the public attending the Fair that Tuolumne County is really close to their home".
The State Fair is located at the Expo Grounds east of Sacramento. It runs through Sunday July 26th.
Meanwhile, to inform the local residents of the various types of tourism organizations located in Tuolumne, the TCVB  has a program this year called, "P.I.T. (Partners In Tourism) Stops.
Tuolumne County residents are invited to visit member establishments to learn more about tourism and our local economy.
Tonight's event will take place at Columbia Nursery and Cafe from 5:30  to 7:00 PM.
According to Davies, "It's a great opportunity for residents throughout the area to better understand the role tourism plays in our area. So many of our attractions and activities that locals take for granted are very dependent on outside visitors to stay in business."
The program is under the direction of Anna Davies. For more information, contact the TCVB at 209-533-4420.
The "Newsmaker of the Day" is heard every weekday morning on AM 1450 KVML at 6:45, 7:45 and 8:45am.