'Fast ForWord' Student Learning Successes Seek Support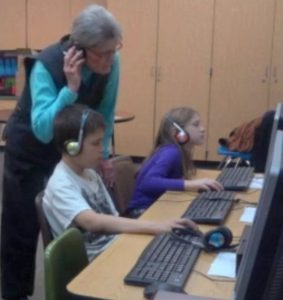 Fast ForWord teacher with students
Murphys, CA — Organizers of groundbreaking local efforts to address — and fix — why "Johnny can't read" report success they hope might spread across the Mother Lode.
Part of a recent pilot program, an in-school "Fast ForWord" learning initiative was recently introduced into the Vallecito Unified School District through a collaboration with Murphys-based nonprofit Mind Matters medical clinic. Administrators' findings show "measurable, positive and lasting improvements" in the learning of its student participants, who were all identified with reading and learning disabilities. The results were exciting enough for school district officials and educators to share their findings in a video (to view, click on the video link in the left-hand image box), according to Mind Matters community outreach coordinator Tasha Unninayar.
"What is amazing is that [program administrators] were able to run this onsite at the schools and saw some students improve four grade levels after completing the program," Unninayar enthuses. She adds, "Because we saw how successful this program was at Hazel Fischer and Albert Michelson [schools], we really want to bring it down the Highway 4 corridor…and to Sonora…to expand it as much as possible. It's needed…successful — and it is really changing those students lives in a way that is really meaningful."
Mind Matters looks to use the Fast ForWord program as a tool to fill the crack of what educators see as a growing need to address reading remediation, dyslexia and auditory processing disorders issues early. As Unninayar explains, "These are the kids that are in the 'in-between zone'. They're not so struggling that they qualify for the special ed programs." She says the clinic estimates there are at least ten percent of these students now, just in the pilot schools, who would benefit and that need outweighs current funding.
In-school Makes A Difference
While Fast ForWord has been and continues to be offered as an extracurricular option by the clinic, Unninayar says financial, geographic and other barriers make accessing it a challenge for many families; hence the pilot collaboration with Vallecito Unified School District. When offered in-school, findings show that students are not only able to do the work during class time, their teachers are able to become part of an integrated process.
Too, Unninayer stresses, it is not just the reading or attention or dyslexia that is a problem for these students. These challenges impact their social life, self-esteem and concept of self-capacity to do things. For example, unlocking the abilities for one of the students in the in-school program, she says, resulted in a dramatic improvement from a pre-primary to fifth grade reading level in eight weeks. The administrators also were gratified to learn through a subsequent letter of thanks from the student's grateful grandmother that the young girl's success was positively life-changing.
Costs to administer the Fast ForWord program run between $1,400 and $2,000 per child, according to Unninayer. The curriculum, which is individually tailored to each student's needs, consists of a six to eight week period with 90-minute sessions scheduled two to five days each week. The in-school pilot, which received funding, expects another round that will allow it to continue efforts in the fall. However, Unninayer says, in order to adequately serve the number of students who might ultimately benefit — and continue to make it free for the schools and students — both awareness and a certain amount of financial support from the community will be needed.
To this end, the clinic has begun raising funds through an online platform on its website. She says 200 donors, each giving at five dollars a month would cover the cost of delivering an entire program at a school. Interested supporters may click here for details.
M2 Expansion Efforts 
The in-school Fast ForWord" program is a natural extension for the Mind Matters clinic, which, as earlier mentioned, had already been delivering the program privately. Now in its eighth year, the nonprofit clinic was founded to assist families with ADD/ADHD, autism and learning disabilities. Most patient visits are covered either by a small co-pay or through grants or scholarships.
Due to its continued program growth, Mind Matters founder and CEO/Medical Director Dr. Ryan Thompson and his co-founder wife Kim had been conducting an executive director search to support expansion and allow Dr. Thompson to focus on the medical side. Last week, the couple announced that the clinic's board of directors chose former Superintendent of the Stanislaus Union School District Wayne Brown to help spearhead the clinic's pathway ahead.
Of his hiring, Brown says, "I am pleased to have been chosen to lead the organization, to help it extend its programs and to secure the necessary funds to make that possible." As the nonprofit clinic's new ED, Brown, who began his new job on Monday, is assuming responsibilities for the overall administration of the clinic, including its programs, day-to-day operations, staffing, and finances.
Unninayer adds that the clinic has scheduled a "meet-and-greet" for Brown during an open house, to be scheduled for later this summer, where folks may also learn more about Fast ForWord and other programs.
Reporter's note: This article has been edited to amend the program name to "Fast ForWord" (a spelling correction) and to remove a previously designated date of August 16 for the clinic's open house, as it now indicates plans to reschedule it with a date yet to be announced.