Groundbreaking Next Month For SRMC Cancer Center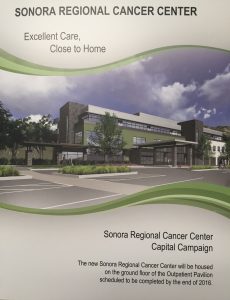 SRMC Cancer Center Capital Campaign

View Photos
Sonora, CA — This afternoon the Tuolumne County Business Council heard an update on both the drought, and Sonora Regional Medical Center's plans to construct its new Cancer Center.
SRMC President and CEO Andrew Jahn announced that a groundbreaking ceremony for the $36-million Cancer Center will be July 14th. As reported previously, the property is the former Andy's Hardware site on Mono Way. $29-million towards the project will come from Adventist Health, $4-million from the hospital's reserve funds and $3-million from a local capital fundraising campaign. Jahn noted that $1.5 million of that $3-million needed has been raised to this point. He said the new facility will mark, "The beginning of a new era" in local healthcare, noting that it will allow patients to stay closer to home when receiving cancer treatment. It will also help recruit high quality physicians to the region. Jahn also announced that that new Cancer Center facility will free up 15,000 square ft. of space at the SRMC main campus, so the existing Emergency Room will be expanded by 30%.
On another note, the keynote address at this afternoon's luncheon came from Dee Dee D'Adamo, a member of the State Water Resources Control Board. She gave an overview of recent statewide decisions made in response to the drought. Topics included water restrictions, curtailments, and the controversial matter of trying to balance environmental needs versus consumption needs. A programming note, you can hear from D'Adamo on this weekend's 30-minute Mother Lode Views.
This afternoon's Tuolumne County Business Council Executive Series Luncheon was held at the Black Oak Casino Resort.