Washington Fire 15% Contained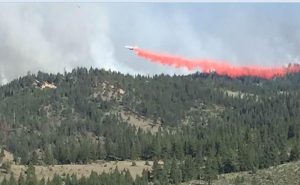 Washington Fire In Alpine County

View Photos
Alpine County, CA — Despite progress made over the past couple of days, fire officials report that a stretch of Highway 4 Ebbetts Pass and Highway 89 Monitor Pass will remain closed throughout the weekend.
The Washington Fire in Alpine County is 15% contained. Initially the incident command team had estimated the fire was over 17,000 acres, but now say it is closer to 16,490 acres. While progress is being made, there are concerns about record high temperatures in the area today, and thunderstorms possible throughout the weekend.
The Alpine County Sheriff's Office continues to issue an advisory evacuation warning for the community of Markleeville, but there are no mandatory evacuations in place at this time.