Hobby Drones A Public Safety Hazard During Fires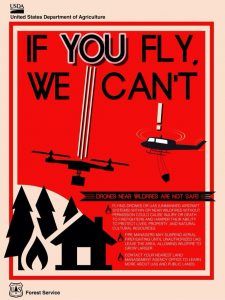 No Drones Signs

View Photos
CAL Fire officials are warning that flying personal drones near fires can notably impact suppression efforts, and can result in legal consequences.
"We started to see these (drones) quite a bit last year, and it's starting to increase this year," says Lynne Tolmachoff, CAL Fire Spokesperson. "The biggest problem is the safety threat to firefighting pilots, and the firefighters on the ground. They can cause major damage to aircraft."
Tomalchoff notes that a drone was spotted near the Lake Fire in Southern California yesterday, so planes fighting the fire could not pass through the area.
"If someone's out there flying, we can't fly our aircraft," she says. "We ask people to be cautious, think smart, and don't do it."
Tomalchoff notes that flying a drone near most larger fires is a violation of the FAA's temporary flight restrictions, so it can result in hefty fines and other penalties.