Progress Made On Washington Fire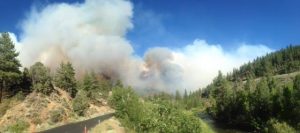 Washington Fire

View Photos
Markleeville, CA — The growth of a large wildfire in Alpine County is starting to slow.
The incident command reports that the Washington Fire has edged up slightly over the past 24 hours to 16,553 acres. Spokesperson Elizabeth Kenna says the winds are starting to die down, which is helping firefighters. The fire is currently 5% contained. Several campgrounds along Highway 4 to the north end of Markleeville remain evacuated. Stretches of Highway 4 Ebbetts Pass and Highway 89 Monitor Pass are closed.
681 firefighters are now on scene. Kenna notes that the Washington Fire is the number 1 priority fire in the country, and has two DC-10 aircraft assisting. In addition there are eight air tankers, 19 engines, 10 water tenders and 19 crews.
The fire was started by a lightning strike last week. The incident command team reports that more lightning is possible in the area beginning Friday.