T.U.D. Approves New Projects And Policy For Development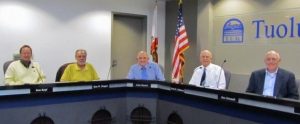 T.U.D. Board (Ron Kopf, Ron Ringen, John Maciel, Kent Johnson and Jim Grinnell)

View Photos
Sonora, CA — The Tuolumne Utilities District approved a couple of projects last night, one being drought-related, and the other is new residential development.
The Board approved a funding agreement with the Department of Water Resources to service 21 homes that have failed wells. T.U.D. will receive state grant money in the amount of $182,919. The homes are in the area of Horseshoe Bend Road, Saratoga Road, and Draper Mine Road to the Sleepy Hollow Water Company, located off Davis Flat Road. The item was approved unanimously.
The Board also ok'd an agreement to provide water and sewer services for the new Derby Court Development in Jamestown. The project was approved earlier this year by the county and includes 19 lots.
In addition, on the issue of new development, the board approved a policy indicating that it does have enough water for new connections and projects. The district will work with developers on ways to supply water. It is in response to some in the community calling for a moratorium on new development during the drought. Board Chair Ron Ringen advocated for having a policy in place because he felt the district was sending a mixed message by calling for 30% water reductions and still approving new connections.
Ringen said, "We're basically under a regulatory drought, and do have enough water in the system to take care of our normal business and new connections."
The State of California is requiring that the district reduce usage by 24%. In hopes of avoiding penalties, and to be safe, the district is calling for a 30% reduction by customers. Many T.U.D. Board members wanted developers and potential new customers to have a clear understanding of the situation. They also noted that the revenue from new connections would benefit the district. The policy was approved 4-1, with Kent Johnson opposed.