Update: Soulsbyville Structure Fire Contained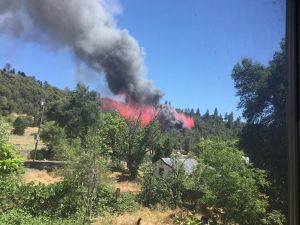 Cal Fire Retardant Drop in Soulsbyville

View Photos
Update 4 p.m.: The CHP reports Soulsbyville Road has been reopened to traffic.  Cal Fire spokesperson Lisa Williams says investigators are on scene actively trying to determine what sparked the blaze.  A special thanks to our community news partner Emmanuel Loomis for sending in a photos.
Update 3:30 p.m.: Cal Fire reports that the two-acre fire has been contained. Columbia Air-Attack has been released and fire crews are mopping up. PG&E is working on the downed power lines. It is yet unknown if there were any residents in the double-wide trailer home that burned.  A special thanks to our community news partner Denise Croghan for sending in a photo.
Update 3:09 p.m.: Cal Fire is dipping out of Willow Springs Pond to use on the fire. A special thanks to our community news partner Tami Cooper and Courtney Anne Holmes for sending in these photos.
Update 3:07 p.m.: According to Cal Fire, the threat to the second structure has been mitigated. Columbia Air-Attack, still on the scene, has made several drops. The vegetation reported earlier is now being referred to as wildland. Cal Fire was planning to notify Red Cross for assistance. Cal Fire is asking motorists to stay clear of the area, if they can, as the area is congested.
Update 2:54 p.m.: PG&E is on the scene to address downed power lines on the scene. The forward rate of flame spread into the vegetation has been stopped, according to Cal Fire.
Original Post 2:32 p.m.: Soulsbyville, CA — Firefighters are on the scene of a structure and vegetation fire in Soulsbyville.
Cal Fire reports, when firefighters arrived on the scene, a double-wide trailer was fully engulfed and almost burnt through. Flames have spread to about two acres of nearby vegetation and another structure is threatened. The fire is located in the 1760 block of Timber Drive, off Soulsbyville Road, south of Soulsbyville Elementary. Columbia Air-Attack has been called to the scene.
Additionally, power lines connected to the trailers are down. Motorists will want to avoid the area as there will be plenty of activity. Traffic is being diverted from Soulsbyville and Draper Mine roads to Highway 108.