Sudden Departure Leaves Open School Board Seat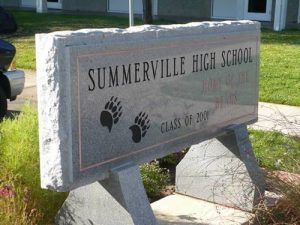 Summerville High School

View Photos
Tuolumne, CA – A Mother Lode school board will address how to replace one of their own after a sudden resignation for reasons undisclosed to the public.
As Summerville Union High School District Superintendent Robert Griffith explains, "At our board meeting two weeks ago we had a presentation by a private citizen who had a concern regarding some activities with our board. After that time, a few days later, Carrie Ashe, our actual board president at that time, did submit her resignation for personal reasons." Continuing, he states, "We respect that and having made that decision, our board is now looking forward in our meeting…considering a couple of different options of how to replace that vacancy."
According to Griffith, one option would be to go forward with an election and the other, to make a provisional appointment. "Each one has its advantages and disadvantages, which they will discuss and make a determination how to go forward from where we're at now," he says.
One way or the other, interested parties will soon have the opportunity to step up to take part in either an election or selection process, the latter of which, Griffith estimates, would take place about six weeks from now. He adds that there is not yet a list of contenders. First, he says, "We need to have the board have their discussions and determination tomorrow night, and then be able to make an announcement and [provide a] follow up process."
Pressed for more details about the circumstances involving Ashe's departure, Griffith states, "Each board member makes decisions based on their own perception, and if a community member has an issue with a board member's decisions, whether they be personal and private, it's between them and the community to resolve that. I think that they resolved it in a way that both parties seemed satisfied."
When contacted for her perspective, Ashe declined to comment.
In addition to determining a process to replace Ashe, the board will also look towards filling some classified positions to replace custodian Kip Bauer and cafeteria manager Kim Britt, who are retiring.
The meeting, which will be held in the Summerville High School Library (17555 Tuolumne Road), will begin with a closed session at 5:30 p.m. and open to the public at 6:30.