Leading Lady Arrives For Fly-In Weekend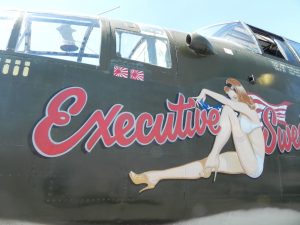 The B-25 J Mitchell "Executive Sweet", operated by American Aeronautical Foundation, arrives at Columbia Airport, June 19, 2015

View Photos
Columbia, CA — Before noon today the main attractions were already beginning to arrive on the runway for Columbia Airport's 49th Annual Father's Day Fly-In.
The event's "leading lady," a bona fide movie star, was the first to fly-in. Emblazoned with a pin up mural and the moniker "Executive S-w-e-e-t," the B-25 J Mitchell, a fully restored WWII war bomber, is operated by the nonprofit Camarillo, Calif.-based American Aeronautical Foundation's all-volunteer six-member crew of pilots and mechanics. Pilot/mechanic Alex Nurse explains it is the same type as was flown by Doolittle's Raiders in their infamous attack on Tokyo in 1942.
A rare bird, indeed, the aircraft is one of perhaps 40 left out of approximately 10,000 that were manufactured as "medium bombers" that focused on strategic targets such as munitions factories and bridges. Before winding up at the AAF museum, Nurse shares, "This aircraft was built in 1944, flew for the Air Force until the late 1950s, then became a water and borate bomber for fighting forest fires…was retired from that — and then became a movie star…in the movie Catch-22."
Along with pleasing plenty of dads, Columbia Airport hopes its comely mix of WWII war birds, car club beauties, barbecue, and bounce houses for the kids will attract attendees of all ages. The event kicks off with this evening an early bird barbecue hosted by Columbia Fire Department. Hours will run 8 a.m. until 4 p.m. Saturday, and 9 a.m. until 3 p.m. Sunday, with admission $5 for adults; free for children 12 and under.
Among the event organizers, county airports' employee Kalah Beckman was bustling under the festival tents on the tarmac this morning. As the B-25 buzzed in the distance, she rattled off that The Bay Bombers' C-J 6s, two T-28s and a T-34 were expected to be wheels down in time for the weekend festivities.
Along with plenty of aircraft on display as well as two car clubs, Beckman notes that this year will include numerous kids' activities, music and more food vendors. Scheduled events will include flight demos, airplane versus car races, "flour bombing" and spot landing contests. This year, she says, the event hopes to hit at least 2,000 attendees, about 600 more than last year, due to added attractions.  For more details, click here.