Yosemite National Park Chooses New Concessionaire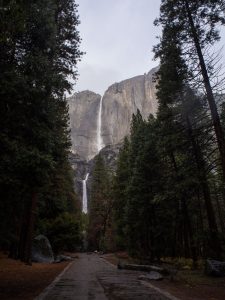 Yosemite Falls

View Photos
Yosemite, CA — Yosemite National Park officials have opted to award a 15-year, primary concessionaire's contract worth an estimated $2 billion set to begin next March, to Yosemite Hospitality, LLC, a subsidiary of Aramark.
Delaware North Companies (DNC), through its DNC Parks and Resorts at Yosemite, Inc., has for the past 22 years provided visitor services at the park that include overnight accommodations, food and beverage operations, retail and fuel sales, recreational equipment rentals and activities. Its own 15-year contract from 1993 was extended over the past few years due to Merced River Plan and litigation issues, which delayed getting the new prospectus out, according to park officials.
After the park initiated a July-through-January open bidding season last year over the national park system's single largest contract, DNC claimed, in submitting its renewal bid, as previously reported, if not chosen, that it should be compensated $51 million for assets that include use of lodging and restaurant names. The matter remains to be settled.
There should be no interruption in service over the transition period, according to Yosemite National Park spokesperson Ranger Scott Gediman, who anticipates it will not affect visitors "at all," as overall services, hotels, retail, the guest recreation (i.e., bike and raft rentals) will remain relatively consistent.
"We're excited…and we feel that Aramark brings a lot of experience…they not only have concession services, they are a global company, and we feel they are well-suited to provide these services in Yosemite National Park," Gediman states. At the same time, he acknowledges, "Delaware North has been a great partner and provided outstanding service to the visitors. They worked with us on some outstanding projects, including the renovation work at the Ahwahnee and Curry Village."
Looking Ahead
As far as changes to come, Gediman indicates, "There are some…based on the [Merced River] Plan that the new concessioner will be a part of implementing." For example, "There's been a lot of discussion about the ice skating rink, and so, the ice skating rink is within the Merced River corridor — which is…not permitted under the [plan]," he explains. For these same reasons, the Valley stables will close after this season and Wawona stables operations will expand for horse and mule rides. "These are not changes they proposed, but what we proposed under the new plan," he specifies. According to Gediman, the new contract also calls for improvements to food and beverage operations relating to reducing traffic, electricity and fuel usage and increasing water conservation. "These are changes that are important to the park and, well, to everybody," he surmises.
"We are honored the National Park Service has selected us to serve as concessioner for Yosemite National Park," states Bruce W. Fears, Aramark's Leisure division president. He adds, "The NPS is a longtime and valued partner and we look forward to enhancing Yosemite's guest experience with a variety of distinctive hospitality and service offerings and educational and interpretive programming."
Aramark now has 30 days to accept the contract, after which it will be sent for a U.S. Congressional review. Gediman says the park anticipates receiving it back sometime in September or October. Once the contract is signed by the park, a transition period will ensue through February 29, 2016, the last day of the DNC contract; Aramark 's contract will then officially begin March 1.
The new concessionaire holds eight other NPS contracts: Denali National Park & Preserve and Glacier Bay Park & Preserve, Mesa Verde National Park, Olympic National Park, Glen Canyon National Recreation Area and Lake Mead National Recreation Area. The company estimates that, last year, it hosted more than 22 million visitors under its contracts with 16 national, state and local parks.