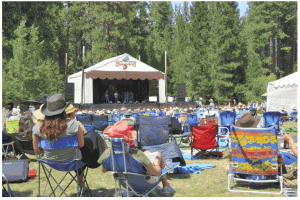 Strawberry Music Festival Event Photo

View Photos
Sonora, CA — The fall Strawberry Music Festival can play on in Tuolumne County, now that the Board of Supervisors has given its blessing after a public hearing on the issue.
As previously reported, the event will be held September 3-7 on a 100-acre site off Tuolumne Road known as the Tuolumne Band of Me-Wuk Indians' Westside property, next to Summerville High School. The supervisors approved a special permit for the fall festival, which included waiving an ordinance that prohibits alcohol consumption; in turn, they added other conditions. County staff reported on several letters from neighbors outlining their concerns which include traffic, noise, water use during the drought, along with safety and security. At the public hearing, a neighbor, Zach Britton, was in favor of the festival but asked, "My only concern is next year we do a review of the security side. Tribal folks have done a great job keeping kids from going hunting…and we use to have a lot of drinking parties from behind Summerville High School. We don't have that anymore. We appreciate that, but we do have a concern that, for those few days, we may have issues again. We just want to see that reviewed afterwards."
District 2 Supervisor Randy Hanvelt liked the idea saying, "I think the concept of having kind of a post action with the stakeholders and [have] everybody take a look at what went well and what, maybe was a little bit of a problem, so it can be fixed for the future." District 1 Supervisor Sherri Brennan echoed that, commenting, "Actually, with the organizers saying that they would be happy to come back and do a follow up meeting, and look at what worked and what didn't really gets at the few concerns that I had. So, I'm really excited to see [the festival] coming back."
For many years, the popular festival was staged at Camp Mather but the 2013 Rim Fire forced it to move to the Nevada County Fairgrounds in Grass Valley, which is where the spring festival was held. Camp Mather is in Supervisor John Gray's District 5, and it was with mixed emotions he voted in favor of the permit. He stated, "I would love to see this event up at Camp Mather again. I know it's not going to happen…I know that there is always problems with these big events, but the history of the Strawberry Festival and Camp Mather has always been one where that if there was a problem, it was addressed and they tried to fix it."
Summerville High Superintendent Robert Griffith had some concerns as well, according to county staff, who told the board that Griffith had earlier pointed out the festival's opening night is a school night and he did not want event goers wandering onto the campus. County Community Resources Agency Director Bev Shane told the board that organizers have agreed to stop the music at 10 p.m. that evening and will also submit a security plan before the event. Additionally, festival organizers already met once with the Tuolumne County Sheriff over potential traffic concerns and agreed to have CHP officers direct traffic. Tuolumne Utilities District and event coordinators will provide water to festivalgoers. No one spoke in opposition to the festival at the public hearing.
Shane told the board estimates are that 5,600 people will attend the festival, 3,600 of them being ticket holders and the rest working the event.
The news story on this year's festival is here.