Californians Conserve Water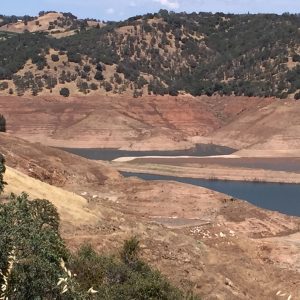 New Melones low water levels-6-1-2015
Sacramento, CA – After marking the worst snowpack on record and prompting stiff water restrictions across the state, Californians are taking heed and cutting back.
Californians decreased their water use 13.5 percent in April, compared to the same period in 2013, according to data released by the State Water Resources Control Board. In April, Governor Jerry Brown ordered mandatory 25 percent water conservation measures statewide.  Board Chair Felicia Marcus states, "While these results are a step in the right direction, there are still too many lush landscapes where irrigation must be reduced to meet the 25 percent statewide reduction mandate. We see conservation gains in all regions of the state, but we don't know whether it was because of cooler weather or concerted action. In particular, the South Coast demonstrated significant improvement, but the real test will be what happens as we move into the hot and dry summer months, when we need to keep the sprinklers off as much as possible."
Board officials say the southern section of the state, notably Los Angeles and San Diego, lagged behind with a nine percent water reduction rate. As previously reported, in April, the State Water Resources Control Board handed down conservation standards for all water districts that ranged from eight to 36 percent. The proposal set Tuolumne Utilities and Groveland Community Services districts' conservation goals at 24 percent; and Calaveras County Water District's at 32 percent. Water districts are also being monitored on their enforcement of the restrictions and could face $10,000 per day fines, if they do not comply.
Here is the board's April data, released on the first full month of enforcement and compliance, with 395 urban water suppliers reporting:
22,674 water waste complaints were submitted to 325 suppliers statewide
22,173 formal warnings were issued for water waste by 260 suppliers statewide
838 penalties were issued by 43 suppliers statewide
12 (3%) suppliers reported that mandatory restrictions are not in place
97 (25%) suppliers reported no restrictions on the number of days per week outdoor irrigation is allowed