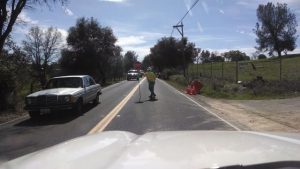 Road work

View Photos
Calaveras County– Some Mother Lode counties are getting a piece of a $223 million road repair pie from California Transportation Commission (CTC).
The drive behind the new funding for 108 transportation projects is to alleviate traffic delays, repair aging roads and bridges. Included in the amount is $167.2 million from the State Highway Operation and Protection Program for 41 of the projects. Commission officials report funding activities will cover maintenance, pavement repair and rehabilitation, safety improvements and upgrades to bridges throughout the state.
Here is CTC's list of projects being funded in the Mother Lode:
Calaveras/San Joaquin County: $1.3 million to install shoulder and centerline rumble strips on SR-12 and SR-26 to improve safety and reduce collisions.
Mariposa County: $826,000 to rehabilitate 3.1 lane miles of Triangle Road near the town of Mariposa
Amador County: $3.4 million to repave and rehabilitate 15 lane miles of State Route 49 (SR-49), from SR-88 to Ridge Road, to extend its service life and improve ride quality.
In explaining the windfall, Caltrans spokesperson Rick Estrada states, "Where that money comes from, [is] primarily from the state fuel taxes, motor vehicle weight fees and federal government funding."