Putting The Brakes On Tax Overcharges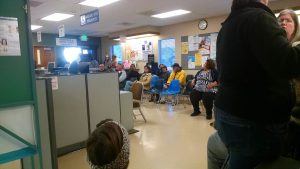 People wait for a computer problems to be fixed at the San Andreas DMV office

View Photos
Sacramento, CA – A former Mother Lode lawmaker's inquiries has helped to halt tax overcharges at the Department of Motor Vehicles (DMV).
The discrepancy in taxes charged to private sale car buyers was discovered last year, after former state senator and current Board of Equalization (BOE) Vice Chair George Runner called for a review of the system.  The overcharging stems from the use of zip codes to determine the tax amount.  An internal audit found that the codes, which often are split between cities and counties, typically have different tax rates.  The review resulted in a new contract between the BOE and DMV, which gives the BOE more oversight of the sales tax collection process to ensure car buyers do not get overcharged.
"Taxpayers should have confidence that their government isn't charging tax that isn't owed," said Runner. "This new agreement drives home that point."
The new contract also creates a pilot program to research alternative methods of using zip codes for determining tax jurisdiction. In all, the review found 7,000 cases where taxpayers were overcharged, requiring BOE to send out refund checks. To view the different tax rates across the state, click here.