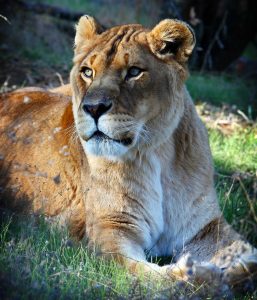 Sheba, PAWS African lion, RIP

View Photos
San Andreas, CA — One of the area's local "big cats" has passed, literally.
The San Andreas-based Performing Animal Welfare Society (PAWS) has announced that one of its long-time residents, 23-year-old Sheba, an African lion, was euthanized on May 4.
According to her caretakers, Sheba lived what is considered to be a long life for a lion. Born in a breeding facility and initially sold as "pets," Sheba, along with her brother, who was euthanized before he could be rescued, first lived in a private Detroit home. Fortunately, Sheba had soft soil and grass to walk on at PAWS' Galt sanctuary, where she lived for 15 years, as she had been previously declawed on all four paws, which damaged them, forcing her to walk on the tips of her toes. Later moved to PAWS' larger ARK 2000 sanctuary, Sheba lived adjacent to the lioness Camba and the sanctuary's other rescued Bolivian circus lions.
Sheba's caretakers report that her mobility had decreased over the past two years, which required the building of a dirt pathway and ramp between her den and favorite resting place under a large oak tree. Although she received daily arthritis medications, hidden in her treats, sometime in late April, Sheba's appetite waned and her condition began to decline. In their necropsy, University of California-Davis veterinary pathologists determined that, in addition to arthritis, Sheba also had cancer in her kidney, adrenal gland, and lungs.