Sneak Peak At Sonora High's Humanities Building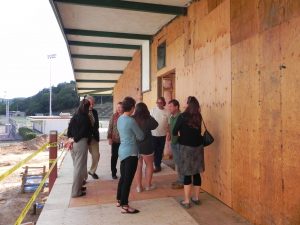 SHS Humanities Building Construction
Sonora, CA — Sonora High School's Board got an update on the Humanities Building project with a tour and Clarke Broadcasting tagged along.
Board members walked through the classrooms as WLC Construction, the contracted firm, Supervisor Andy Galbraith pointed out work that has been done and what is still to come. "The fire sprinklers, heating and air are done. The dry wall starts tomorrow and the second floor will be done by the end of the week." Galbriath adds the classrooms will be equipped with state of the art sound systems that make each room sound proof.  Crews have begun the decking around one side and back of the building. Pictures of the construction tour and a video are in the upper left hand box.
Board President Robert Lyons had this reaction after the tour. "We're very proud of it. It's going to be great. I think that this is going to be a brand new building. The Humanities Building was torn out to the stud walls…complete new construction of this building. It will be state of the art in every way…and last for 50 years."
Student Body Board Representative Samantha McKinney, a senior, had this to say, "I'm excited for what it's going to turn out to be. I'm sad that I don't get to see the end results, but I hope to come back and see it, and I think it's coming along pretty nicely."
Superintendent Dr. Mike McCoy say the construction is right on schedule with the doors opening next school year opening.