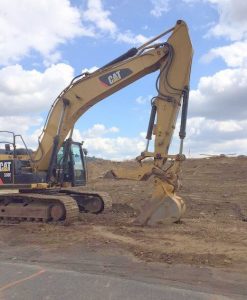 Caltrans Highway 108/Mono Way intersection repairs

View Photos
Sonora, CA – If you have been wondering what all the road crew equipment is doing by the Mono Way and Highway 108 intersection in Sonora, it is Caltrans working on a major project.
Crews have been working on enhancing motorists' ability to see further along the highway. It is part of the $590,000 State Route 108/49 intersection Improvement Project. Caltrans spokesperson Angela Daprato explains, "This is a bigger project. It's not one of our maintenance projects — we're improving sight distance — so they're doing paving, excavating and embankment work to help motorists see better along different locations on 108."
In other roadway repair work news, the eastbound off-ramp work at the intersection wraps up today. Next week, crews will continue project repairs on Highway 108 from Mono Way to Rushing Hill Lookout Road in Jamestown. The work begins Sunday, May 17 and runs through Friday, May 22 from 8 p.m. to 5 a.m. Daprado says motorists should plan for delays of up to 10 minutes.