Embracing Calaveras Fair Fun And Traditions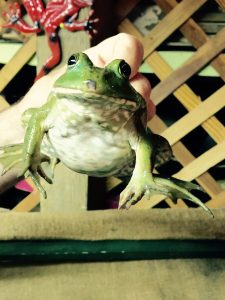 Calaveras-Frog-Spa-Resident

View Photos
Angels Camp, CA — Already, there is plenty of fun in progress, as the second day of this year's Calaveras County Fair and Jumping Frog Jubilee opened to a billowy cloud sky, promising increasing sun for the weekend ahead.
As tours opened under the Frog Jump Stage, Frogmeister Gallagher, holding court in the Frog Spa below, shares that the frogs are getting antsier with the warming temperatures. For a $5 entry fee, fair goers get the opportunity to jump one of the 480-odd contenders, and Gallagher says this year's lot looks feisty.
Walking by the Junior Horse Show, myMotherLode.com caught Morgan Rolleri exiting the Arena with a blue ribbon. "I was [competing] in English Equitation," she explains, holding out her prize. "He's not really an English horse but he did pretty good." It was the second year of competition for the Mark Twain Elementary seventh grader, and her third blue ribbon of the day. Before bustling off help her daughter change for the Western events, Kimberly Rolleri took a moment to comment how the fair continues to be a huge tradition for her extended clan. "I have two daughters in the competition and a niece…so our whole family is here." She adds, "We…lost our Great-Grandmother [Rusty Rolleri] this year, who was such an icon in the community, and so, Morgan's riding in memory of her."
First-year Friend of the Fair Volunteer Susie Brussel, strolling her assigned area, adjacent to the arena, states that her family moved to Angels Camp just four years ago but they are well-immersed. A board member of Harmony Ranch, she declares her favorite part of the fair is definitely the horse show events. "We have four girls who are riding…they've practiced really hard," she explains. "They are part of Harmony Ranch so they come out and take lessons with us and get to show off their skills here." Coming in a close second, Brussel adds with a big belly laugh, "I love to take my kids on the rides, she laughs. [It's] their favorite part – and eat corn dogs!"
All kinds of events will continue throughout the weekend. For information on yesterday's opening parade and transit information to and from the fair, click here. 
For a rundown of the weekend events, click here.