Downtown Youth Parade Kicks Off Calaveras Fair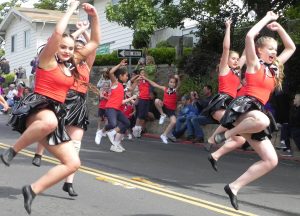 AC-Youth-Parade-Top-Hat-Dancers-Jump

View Photos
Angels Camp, CA — Local color, little kids and lots of youthful energy abounded this morning in downtown Angels Camp as the Youth Parade led off, just after 10, to get this year's Calaveras County Fair and Jumping Frog Jubilee officially underway.
In all, 35 units paraded down Main Street. Among the entries were Rosie the Ribbiter, the high school band, dance troupes, antique cars and other children's groups, along with the newly crowned Miss Junior Calaveras and Miss Calaveras contestants.
According to long-time parade MC, Paulette Stelte, who has hosted the festivities for the past 15 years, it was back in 1947, around when the Calaveras County chapter of the Soroptimist International women's service group was chartered in Angels Camp. "Ever since then, we've been putting on the parade. We used to call it the Kiddie Parade, but now, there a lot of grown up kiddies that want to be in it…so we call it the Youth Parade." Stelte's co-host cohort, Mark Twain Medical Center Chief Nurse Joanne Jeffords chimes in, "So this will be the 68th annual, without a break!"
Among the 2015 Soroptimist Youth Parade winners:
Large Motorized — 1st: Broglio Mining Company; 2nd: New Melones Marina
Small Motorized — 1st: Greenhorn Junior Golfers; 2nd: Rushdoony Truck
Schools — 1st: Ukulele Class; 2nd: Christian Family Learning Center
Pairs — 1st: Moncada Children; 2nd: Best Buddies
Private Groups — Top Hat Dance School; The Wild Bunch (25 members and two ponies); American Heritage Girls; Mark Twain Medical Center
Besides the famous jumping frog contests, the next four days of festivities include a rodeo, carnival games and foods, live music, youth livestock and other fair competitions. Today's main attractions include the Saddle Queen Competition and Miss Calaveras Scholarship Pageant.
Among the new fair offerings this year are the Gypsy Time Travelers. Comprised of storyteller Christy Horne, her blacksmith-partner Michel Olson and "Florence," the duo's mobile stage/castle/blacksmith shop. They will present three to four live highly family-friendly shows daily, combining Horne's yarns with Olson's live anvil work. While the two travel across-country to perform, they make their home in Angels Camp and say they are extremely pleased to be making their local debut. "I have over 30 different stories…so I won't tell the same story twice…and Michel will make dozens of items each day, like salt spoons, horseshoes, unicorn shoes, and belt hooks…these items are all given away in free drawings following every show," shares Horne.
Calaveras Transit District is offering one-dollar bus rides to the fair from various locations in Angels Camp today through Saturday, when it will additionally make pick ups and drop offs at points in Valley Springs and San Andreas; no rides will be offered Sunday. For more details, click here.