Gang Gums Up Traffic; Tries To Halt Roundup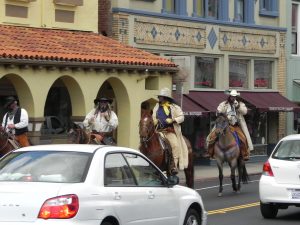 Bandits in Sonora
Sonora, CA — As is the tradition during Mother Lode Roundup time, Coyote Sam and his dastardly gang struck in downtown Sonora in an attempt to grind all festivities to a halt.
Word around town had it that the villains were planning to rob the Roundup Queen Contestants of official paperwork they were charged with guarding by Roundup officials.
True to the rumor, the bandits made their appearance in downtown Sonora during lunch hour, obviously tipped off that the Sheriff's Posse and Queen Contestants were inside at Emberz Restaurant, partaking in the Sponsors' Luncheon. Interestingly, just moments before, Sheriff Jim Mele was heard to have said, in between chews, "Hopefully, that Coyote Sam character won't come around here because he knows that those young ladies will protect that contract, and so, I have no doubt that he won't show up."
Guns blazing, Sam and his soldiers rode down South Washington Street and stopped traffic as they called out the Sheriff. In Mele's defense, the Posse's response was upstaged by the Queens, who, packing an impressive arsenal of water pistols, helped run the varmints off. Phew! They still got away with the contract, though, and the Posse has two weeks to get it back to ensure the Roundup continues. Now in its 58th year, festivities are scheduled this weekend through Mothers' Day. For full details, click here.