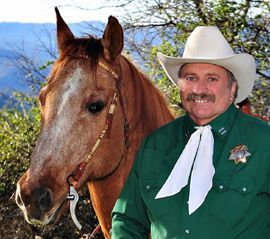 General Chairman – Al O'Brien
View the Roundup Parade on our Webcams:
Welcome to the 58th On behalf of the Sheriff's Posse I would like to thank all of the many sponsors and citizens that continue to support this great small town tradition. In addition I would like to thank the County of Tuolumne and the Board of Supervisors, and the City of Sonora for their support and for understanding that this event has hallmarked what is great about Tuolumne County for over fifty seven years.
The continued support of the County business community has been a tradition for the many years of the Round-up and new County businesses recognize the importance of that tradition and continue to help the Posse make sure this event will continue. Nationally many small town rodeos are disappearing with the loss of Agricultural lands and the family heritage that accompanies the Ag lifestyle. The Mother Lode Round-up represents the fabric of the Ag tradition in Tuolumne County and the ranching families that shared the dream represented by this great event when it was founded many, many years ago.
The men and women of the Tuolumne County Sheriff's Posse hope that you will enjoy what our efforts continue to produce each year and the excitement this traditional event brings to family gatherings here in the Sierra Nevada foothills. Join our Posse families in celebrating this great parade and rodeo tradition that lives on as the Mother Lode Round-up every Mother's Day weekend. Love to my mother Patricia who will be celebrating her 90th birthday this year, my Aunt Arlene who will be 91 this year, my wife Kelli, and my daughters Paige and Molly.
Wishing you all the best,
Al O'Brien
General Chairman – Mother Lode Round-Up
Gang Gums-up Traffic Tries To Halt Roundup news story.