Recent Escaped Burns Spark Cal Fire Warning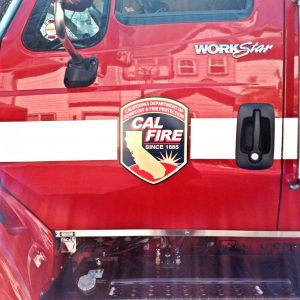 Cal Fire Truck

View Photos
San Andreas, CA — Several vegetation fires ignited by flames spreading from debris piles has Cal Fire reminding the public of the dangers of unwatched burns and requesting residents help reducing wildfires.
One example, as reported this past Monday in Calaveras County, Cal Fire found a hollow stump being used to contain a debris burn, but instead it helped to ignited grass nearby in a canyon, threatening several homes on either side.
Additionally, as previously reported on Tuesday, due to high winds expected through the week, CAL Fire requested that the local air pollution control districts declare "no burn days" until Friday, which the district granted.  Saturday is a burn day, but Cal Fire spokesperson Lisa Williams cautions with a winter storm approaching next week, "We have to be careful right now.  The winds have been forecasted to be gusty, and so that is not a good time to be burning.  Another reason is because everything is drying out so much earlier than typical.  Usually, in the Tuolumne-Calaveras area our winters are wetter and so burning right now has become a problem, so we just need people, if it is a permissive burn day and it is windy, please do not burn."
Another problem is people leaving burn piles unattended.  Williams says that is a recipe for disaster, proven by the recent escaped debris fires.  She adds always have water and a shovel nearby when burning.