Taking Their Local Show On The International Road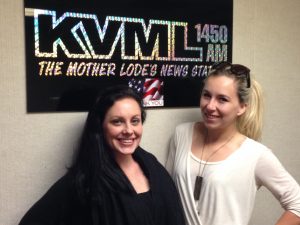 Anni Morgan, Natalie Morse

View Photos
Mother Lode residents Anni Morgan and Natalie Morse are taking their local show on the international road for a full month.
Morgan and Morse were Thursday's KVML "Newmaker of the Day".
The two are known as the Kountry Kittens and their troupe includes one other lady.
They are representing the Mother Lode this month with twenty-four shows in twenty-six days in Europe.
Shows will take place in Belgium, Germany, France and the Netherlands
But who or what are they?
According to founder Morgan, "We are a hillbilly comedy burlesque troupe."
Several decades ago these type of shows were a common form of entertainment, but with the passage of time, that style of live theater went away.
According to Morgan, "Burlesque has returned to the national scene in a major way. Audiences are once again hungry for fun, live entertainment. Our local shows are comedy shows with one girl acts, plenty of props and lots of music. We call it hillbilly burlesque. The expectations of what the audience is in store for, invokes laughter before the show even starts."
Morgan points out that there are some misunderstandings of what the shows are all about from people who are not familiar with the modern day shows.
"It is not a strip show, there is no nudity," said Morgan. "The shows are risque, but my children see much worse just on MTV. What we offer is a fun way for both men and women to laugh and experience a night of comedy with music, quick acts and lots of spontaneity."
According to Morse, local venues have been difficult to find in Tuolumne and Calaveras counties with the amount of props and space required for both the dressing room and acts.
"We are not a band, so we can't just plug and play" said Morse. "Our shows are constant theater in motion."
After the European tour, the Kountry Kittens will be on tour in the USA. This November, they will perform locally in the Willow Creek Lounge at Black Oak Casino.
The "Newsmaker of the Day" is heard every weekday morning on AM 1450 KVML at 6:45, 7:45 and 8:45 AM.