Mono Way Wall Smashed Into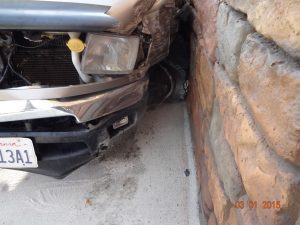 Pick-up crashed into Mono Way retaining wall
Sonora, CA – The newly finished decorative rock wall built as part of the Mono Way Widening project has taken its first hit.
The Sonora Police Department reports on Sunday a truck crashed into the retaining wall on the 1000 block of Mono Way at 4:42 pm.  A woman driving the 2000 Silver Nissan pick-up truck was heading eastbound on the roadway when investigators say she deliberately drove the truck into the wall on the north side of Mono Way.  Police have reported no reason for why she drove into the wall. Additionally, her name has not been released.
The woman suffered minor injuries and was taken by ambulance to Sonora Regional Medical Center.   The truck sustained moderate damage, and the wall had minor damage.
As previously reported, each of the rocks on the wall was individually painted for a "natural" look according to City Engineer Jerry Fuccillo.  City officials went out this afternoon to assess whether repairs are needed to the wall. The Mono Way Widening Project was 99% completed last month except for landscaping that has been put on hold due to the drought.  The total cost of the project's construction was roughly $3.9-million.