Fowler DNA And Jail Inmate Death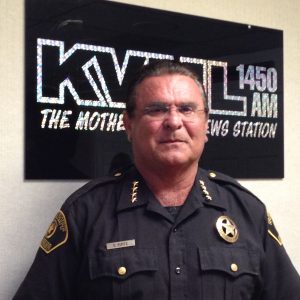 Calaveras Sheriff Gary Kuntz

View Photos
San Andreas, CA – Just into his second term, after a hard fought election he won handily, Calaveras County Sheriff Gary Kuntz remarks on recent defense attorneys claims regarding the upcoming Leila Fowler murder trial, the death of an inmate in the new state of the art jail and his future goals.
As previously reported, at a court hearing in San Andreas last week, defense attorneys for Isaiah Fowler, Leila Fowler's older brother who is accused of stabbing her to death in their Valley Springs home in 2013, expressed optimism that DNA evidence could end up proving him innocent.  Sheriff Kuntz scoffs, "We'll, all I can say is wait until the end of the trial.  I am sure that the DNA will tell another story than what they [Fowler's defense attorneys] are trying to portray it as.  I think we have arrested the right person."  As evidence examination continues, the trial start date was set for May 18.
The new Calaveras County Jail had its first inmate die behind bars, as reported in December of last year.  A guard doing morning security checks found 59-year-old inmate Kelly Keel of West Point dead in his cell.  Keel was alone in his cell, and neither drugs nor foul play was suspected in his death.  Sheriff Kuntz says.  "A review of his death was just completed and I feel very strongly that everything that possibly could have been done was done.  There are so many measures that if somebodies hurt or injured they [inmates] can push a button in the cell or call for help and he [Keel] didn't take advantage of the situation."  However, pressing the cell button may not have been possible, as Keel died almost instantly from a massive bleeding ulcer that ruptured, according to the autopsy report, which ruled his death due to natural causes.  Keel was behind bars for a November 28 assault, but investigators have not given further details on that incident.
In terms of the 160 bed jail, Sheriff Kuntz says, currently he is working on a plan for renting out the unused bed space.  He says he has already contacted Tuolumne, Amador, San Joaquin, and Alpine counties in regards to possible fees and what types of inmates they want in the jail.  "We have to decide on the severity of the crimes.  I don't want a bunch of gang members here," says Kuntz.
As for his goals for this new term, Sheriff Kuntz says he wants to continue to broaden the "Neighborhood Watch" and the resident deputy programs in the county.  However, with 70% of burglaries done by juveniles, according to Sheriff Kuntz, he say his top priority is to get more school resources officers back on campuses.  "They [schools] take a lot of our time up," adds Kuntz.  "By having those deputies in the schools, working with the kids, deterring some of these issues is going to alleviate a lot of these problems when school is out. "
Sheriff Kuntz was sworn in to his second four year-term on January 23 of this year.