Innovation Lab Attracts Innovative Program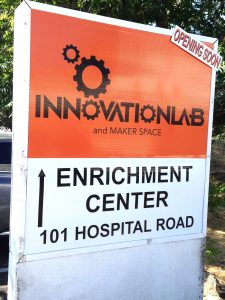 Innovation Lab

View Photos
Sonora.  CA — For the first time, UC Merced students have picked two local engineering projects outlining design problems to try to solve.
Through the school's Capstone Design Program, senior engineering students have committed to tackle the projects submitted by Sierra Pacific Industries and HealthlitNow, which promotes public health literacy.  Last year, the non-profit was launched  out of the Innovation Lab located in the old Tuolumne General building in Sonora.
Tuolumne County Economic Development Authority Director Larry Cope believes the lab attracted the students to these projects.  "Some of the work can now be done up here.  Now they have a facility where they can actually come to, near the projects that they're working on, that has all the tools they would ever need."
Cope wants to keep the momentum going.  He says the TCEDA will be encouraging other county businesses to come up with projects to submit to next year's Capstone Program's Innovation and Design Clinic.  He adds it is also a great way to let students about to enter the workforce see what the county has to offer.