Yosemite Climbers Reach Finish Line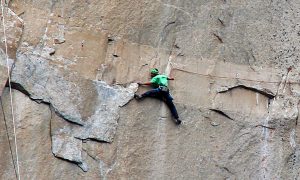 Kevin Jorgeson Climbs Dawn Wall

View Photos
Yosemite, CA — The two free climbers scaling the face of El Capitan in Yosemite National Park have made it to the finish line.
Park spokesperson Ashley Mayer reports Tommy Caldwell of Colorado, and Kevin Jorgeson of Santa Rosa finished the 3,000-foot climb of the granite Dawn Wall just after 3 p.m.  "Caldwell came in first and Jorgeson came in about 15 minutes behind him."
The two have been using just their hands and feet, with ropes available, only as a safety precaution, to scale the vertical rock since December 27.  As reported yesterday, Caldwell had been waiting for Jorgeson to catch up after he fell behind on the climb due to hand injuries.  A press conference with the climbers is scheduled for tomorrow at 11 a.m. in the El Capitan Meadow of the Park.