Yosemite Climbers Making Progress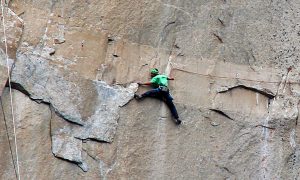 Kevin Jorgeson Climbs Dawn Wall

View Photos
Yosemite, CA — The two men free-climbing El Capitan could reach their destination by mid-week.
The Associated Press reports that Kevin Jorgeson of Santa Rosa fell behind his partner Tommy Caldwell of Colorado, late last week, after some failed attempts to make it past one of the most difficult stretches. Jorgeson has now caught up with Caldwell, and the pair will soon be ready to make a push for the top.
They are trying to become the first to free-climb the Dawn Wall of El Capitan. They have been climbing for approximately two weeks. The route is approximately 3,000 vertical ft. The climb has brought national media attention to Yosemite National Park.