Bizarre Crash In Jamestown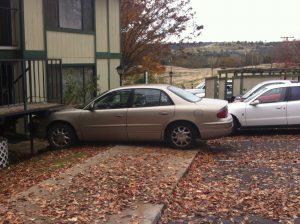 Jamestown Apartment Accident

View Photos
Jamestown, CA — A driverless car caused a wreck at the Jamestown Apartments.
The incident happened just before 1 p.m. Friday.  The CHP reports a 1997 Chevy Camaro appeared to have popped out of gear and rolled across the parking lot, smashing into a parked Buick sedan.
Officer Olga Boenisch explains, "The impact of the collision forced the sedan forward and it collided with a stairwell. What's really odd is that the Camaro has been parked in that spot for two years without moving."
No one was hurt in the incident.