Berryhill Upset About Gas Tax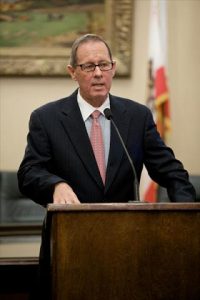 Senator Tom Berryhill

View Photos
Sonora, CA — Mother Lode Senator Tom Berryhill is upset about what he calls a "hidden gas tax" that will take effect on January 1st.
It is part of the AB 32, Global Warming legislation that was passed into law in 2006. The cap-and-trade aspect of AB 32 is gradually being expanded, and it will start targeting gasoline, diesel and other transportation fuels.
The California Air Resources Board conducted an economic analysis in 2010, and found that the regulations could increase the price of gas from 4%-19%. Opponents argue that it will translate to a spike of 16-76 cents per gallon.
"It's a direct tax on the working folks of California, especially up in these rural districts, where you have a lot of commuters," says Berryhill. "It hits directly at the pocketbooks, which then hits the supermarkets, and you have the trickle down economy."
Senator Berryhill has co-authored legislation calling for the tax hike, going into effect January 1st, to be postponed for the next decade.
CARB officials have argued that the overall impact will be reduced over time because cars are becoming more fuel efficient.
Berryhill's District 8 covers the Tuolumne and Calaveras region.