Habitat For Humanity Dedicates New Homes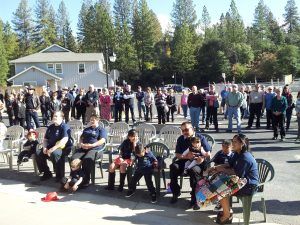 Habitat for Humanity Home Dedications

View Photos
Sonora, CA — Habitat for Humanity of Tuolumne County (HFHTC) completed two homes and held a dedication ceremony on Saturday. Ramos and Aguiar are now neighbors in a duplex that they helped to complete. Their children, two in the same 3rd grade class, couldn't be more happy.
Tuolumne County Habitat for Humanity Resource Development Manager Betsy Harden says "Every single home dedication is just as exciting as the first!" Three other families; Bauer, Geer, and Murillo, were also celebrated. They moved in almost a year ago, in December 2013, when their ceremony was snowed out.  Harden reported that the weather was great and about 100 people were able to attend.
The homes are located in the Parrotts Ferry Village Development in Columbia. Harden says they are one-third of the way through, with 25 more homes they hope to build with the community's support.  Harden also says the new Executive Director, Trinity Abila, is fitting in perfectly, providing great leadership at the helm.
New families are being selected for the next homes, they hope to break ground on the next project in January. To qualify for a Habitat house, a family must have an income that is 25-50% of the median county income. Habitat for Humanity of Tuolumne County is an independent affiliate of Habitat for Humanity International, and responsible for obtaining their own funding for operations and to build the homes.
A few partners like PG&E pay for the solar panels to be installed and Whirlpool provides appliances. Harden says, "If we don't have the local support then it doesn't feel like a community project. We still need donors to help out and support us."
Leadership donors on last two duplexes were:
Thrivent Financial
Sonora Area Foundation
Bank of America Foundation
Pacific Gas and Electric Company
California Gold Development
Berkshire-Hathaway Home Services
Judy & Roger Haughton
Mark Patterson
Jan Verhage
For more information about the program visit www.habitattuolumne.org.