Mother Lode-set Indie Film Stars Sonora Teens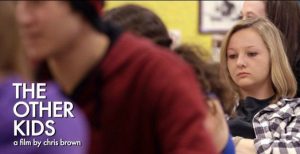 The Other Kids Movie

View Photos
Sonora, CA – A backdrop for scores of movies, Sonora is the story setting for a groundbreaking film now in post-production that features local students as cast and crew.
On Sunday, at 3 p.m., those who attend the Fifth Annual ITSA Film Festival at Historic Sonora Opera Hall will have the opportunity to preview the trailer for the movie project, titled The Other Kids. A part fiction, part nonfiction hybrid, the film focuses in on the struggles of six vivid teen characters, created by the local high school students, themselves, in collaboration with award-winning director-producer Chris Brown.
Shot in 92 days over a period of 18 months, in locations throughout Sonora, the project still needs to be edited, scored and mixed for festival exhibition, according to Brown. With an estimated early 2016 public release date, a final 40-day fundraising push with nonprofit arts partner FracturedAtlas, launched on Indiegogo.com about a week ago, has already achieved 30% ($11,670) of its $30,000 goal.
The Other Kids is Brown's fourth feature film. The filmmaker won numerous awards and accolades for his 2010 indie film, Fanny, Annie and Danny, now on Netflix. Part of the team behind the 2013 Sundance Film Festival Award Grand Jury winning world documentary, The River Changes Course, he has also edited two Emmy-nominated PBS documentaries.
In a Q&A with myMotherlode.com, Brown shares more about the project…
mML: Why Sonora?
Brown: It's personal for me – it's Sonora because I have family in the area. My grandparents have a cabin near there, so I grew up going back and forth between there and the Bay Area, and I've always loved it and have always wanted to make a film there. This is my fourth feature and I've always wanted to work with kids, teens specifically. [The film] was really kind of an investigation into…what it was like to be a teen in 2014 and specifically, a teen in Sonora, and what are the unique struggles that teens face.
mML: Was the idea for the film inspired by how you may have felt, back during your teenage years, at 17 years old?
Brown: I had a few feelings about the subject and certainly many memories. This is a film made without a script and this is a film made by the teenagers in the movie itself. They created the characters. They created the stories, and all the drama is from them. It is not a yet another middle-aged guy's idea of what being a teen is (laughs). It's the real thing.
mML: How did this project come about for you?
Brown: It was a long process that began over two years ago. I visited both high schools…sitting in on drama classes, art classes and film classes…listening to kids do exercises and rehearse…It required permissions from the school boards…I talked to faculty…gave assemblies. Tons and tons of kids came out to audition…I found a core of eight kids with a lot of passion and stories to tell.…We work shopped it…I asked what stories do you want to tell, what happened to you…what really matters to you…and that became the core of the film.
mML: Can you tell us some of the story lines in the film?
Brown: I don't want to give away too much of the film…the stories that we deal with are struggles that teens face every day…friendship, loneliness, self-harm…sexuality – what am I going to do with my life? I've been in this big box called 'school' and in most cases, cared for by one or two parents the entire time… how am I going to make my name in the world? Leaving the area is a big thing for a couple of the characters.
mML: Besides the student actors, who else worked behind the scenes on the movie?
Brown: The crew was largely teenagers…the actors…who might have been in front of a camera on a Saturday and behind one on a Sunday. Liz Kelley and I were the only non-teen members of the crew… Liz is from the area, went to Summerville, then to school in Santa Barbara…acted in New York and moved back to Tuolumne County. I met her as a volunteer…within six seconds, I told her that she was way over qualified to volunteer…and she became key to the project.
mML: How did the movie title come about?
Brown: The title is a little bit amorphous. It explains the drifting feeling, 'who am I, and where do I fit in'…Some of us don't feel in the main stream, just a little off to one side. These are the kids that you are not accustomed hearing from…they are on the fringes and in between the lines.
mML: What do you hope people will think when they finally see the finished film?
Brown: I hope they say that this is not another 'Hollywood' movie.
mML: If folks want to contribute to the project, we understand there are some nifty perks, yes?
Brown: Yes. Some REALLY creative ones…they are all on the site. Please check it out!
To read more about The Other Kids, view behind-the-scenes videos, and check out how you can contribute in ways small and large to help fund final post-production work needed ahead of its film festivals release, click here.